S.L.Mossman
Winfield,Kansas



To see my collection of Mossman Literature go here.

This is the cover of a Mossman price list from 1973. Go here to see the prices.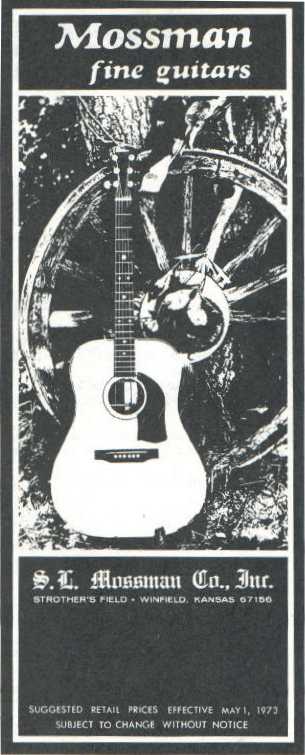 Great Plains Custom - 1973 Winter Wheat - 1976 Winter Wheat 12 String - 1977


Stuart Mossman made guitars form the mid 1960's until the mid 1980's. Each handmade guitar was signed by the craftsmen who built the guitar. Stuart used techniques which are now beginning to be utilized by some of the modern high end guitar makers. These include bolt on necks and fast, thin necks such as Taylor uses today. While Stuart Mossman was building guitars, his company took great pride in the quality of their product. In fact, many of their catalogs included the following quote.

"We at Mossman are disgusted with what has happened to the quality of goods produced in this country. Quality has been sacrificed for quantity. Mass production has gotten out of hand. Craft has almost been completely eliminated from our society. This vile abomination (of plywood) is currently being perpetuated on the unsuspecting guitar playing public on a grand scale. We at Mossman considered plywood briefly one day and unanimously decided that plywood makes the best cement forms available. We do not now nor will we ever stoop to the level of plywood construction, and we apologize for our contemporaries who have lowered the station of our craft by using laminated backs and sides. Mossman considers itself a happy exception to the current trend. We are relatively small and our able to devote all our energies to quality craftsmanship and the selection of fine aged woods. We love making guitars and are proud of our work." For more information and the history of Stuart's guitar company look here.

If you need repairs for your Mossman, contact Scott Baxendale. Scott was an employee of the Mossman Company, and owned it as well for several years. He currently has a shop in Dever Colorado, providing repair services for Mossman and other guitars. He has new old stock parts for Mossman guitars as well. You can find Scott at The Colfax Guitar Shop.